Starting as a butcher shop in Aberdeen over 60 years ago, Farmfoods offers a fantastic selection of frozen foods, groceries, chilled foods, bread, milk, fresh fruit and vegetables along with a range of household items.
With more than 300 superstores stores and four distribution centres nationwide, Farmfoods offers great value on the food your family enjoys and on the household essentials your family needs.
Frozen food saves money
Farmfoods offers a significant range of frozen food. Freezing is a natural preservation process that doesn't need chemicals. It allows your food to stay in top condition in your freezer for months, as fresh as the day it was picked, caught or butchered. Using frozen food such as chicken, prawns or vegetables can help reduce food waste and save money on your food bills.
In this article, we bring you the latest Farmfoods offers, vouchers and deals. We'll also note any current Farmfood offers on drinks or other items such as dog food.
What are the latest Farmfood offers?
Each week, Farmfoods offers are delivered direct to your inbox via their weekly newsletter. On occasion, they'll also send additional emails with special offers, deals, discounts and vouchers.
Latest Farmfoods Offers – Updated 16th March 2023
DIY Bargains! Black & Decker, Stanley, Kärcher and more! – Available in store from Friday 17th March
Prices valid until at least 24th March
Latest Farmfoods offers – Groceries
What are the current Farmfoods offers on drinks?
There are no currently advertised Farmfoods offers on drinks.
What are the current Farmfoods offers on dog food?
There are no currently advertised Farmfoods offers on dog food.
How do I sign up for the latest deals, offers and Farmfood vouchers?
The quickest and easiest way is to visit https://farmfoods.co.uk/. When you visit the site for the first time, a pop-up will be displayed on your screen. By entering your email address, you will automatically sign up for the "Farmfoods offers newsletter". As a newsletter subscriber, you will get occasional special offers, discounts and exclusive deals directly to your inbox.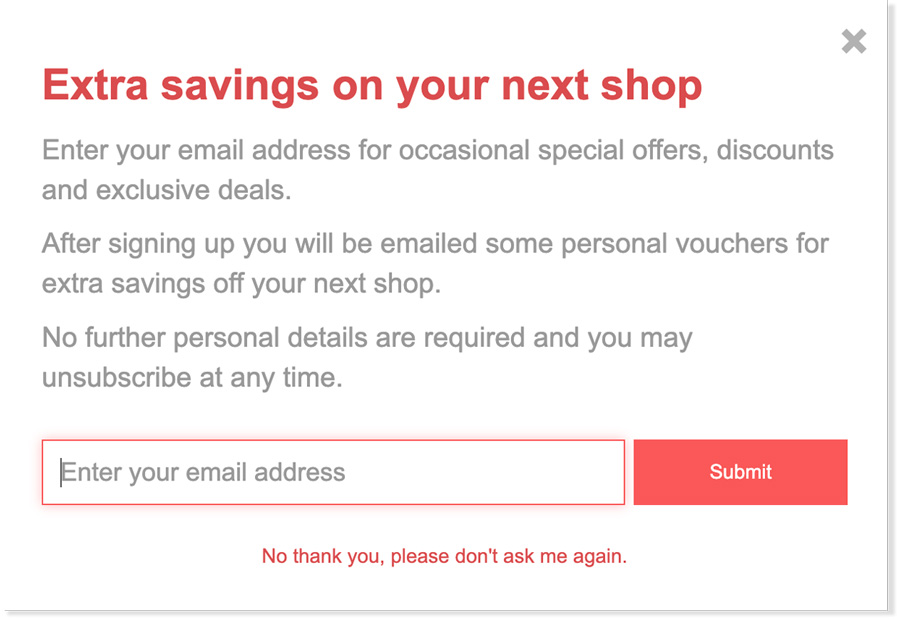 As an added bonus, after signing up you will be emailed some personal vouchers for extra savings off your next shop.
The vouchers sent in your email are unique to you, so make sure to keep them safe before using.
What do the Farmfoods vouchers look like?
The Farmfoods vouchers look like those shown below. The vouchers are always unique to you and can only be redeemed once. New vouchers are added to each email, so you can use them when needed.

Your discount may be obtained by showing a valid voucher code at the till, either on your mobile device or by printing the page.
What is very handy, is that when you click through to the voucher page on the Farmfoods website, it shows how many of your vouchers have been used and your total savings. All without having to login to the site.
Some common Farmfoods vouchers include:
£2 off when you spend £25
£5 off when you spend £60
A very welcome feature of the Farmfoods vouchers is the fact that printed and eVouchers may be combined for larger purchases, e.g. 2x £2 vouchers could be used against a £50 bill.
Frequently asked questions
Are there any Farmfoods in Northern Ireland?
Unfortunately, there are currently no Farmfoods stores in Northern Ireland at this time. If 
Does Farmfoods have an online store?
No, Farmfoods only sell in their retail supermarkets. There are 300 across the UK and you can find out if there is a Farmfoods near you by visiting their Store Finder.
Who owns Farmfoods?
Farmfoods is own by Eric Herd.
Why is Farmfoods so cheap?
Farmfoods is cheap for a number of reasons. They primarily sell frozen food which has lower costs of purchase, storage and transportation. They buy and sell in bulk and they also offer a range of own-brand alternatives.
Want to save money with other supermarkets across the UK? Check out the Tesco Grocery & Clubcard App and the Asda Rewards App articles.