As the nights draw in this winter, many of us will be choosing to settle down with a pizza or a meal deal and a movie to save a few quid, instead of heading out for the night.
Asda in conjunction with Sky Store has launched not 1 but 2 very special Movie Nights In meal deals that are available in any Asda or your Asda online order. There's the £6 Pizza Movie Deal and then a £12 meal deal which includes products from the Asda Extra Special Range. Who doesn't love to save money when they're saving money? I know I do.
So that's a £6 movie deal for special nights in and a £12 meal deal for EXTRA SPECIAL nights in. Let's look at what you get for your dough.
The Asda £6 Movie Deal runs all the way to 2nd April 2023, but the £12 Extra Special Meal Deal finishes on 12th January 2023.
PLEASE NOTE THAT THE PIZZA DEALS ARE ONLY AVAILABLE FOR CUSTOMERS WHO BOUGHT IN-STORE, NOT ONLINE.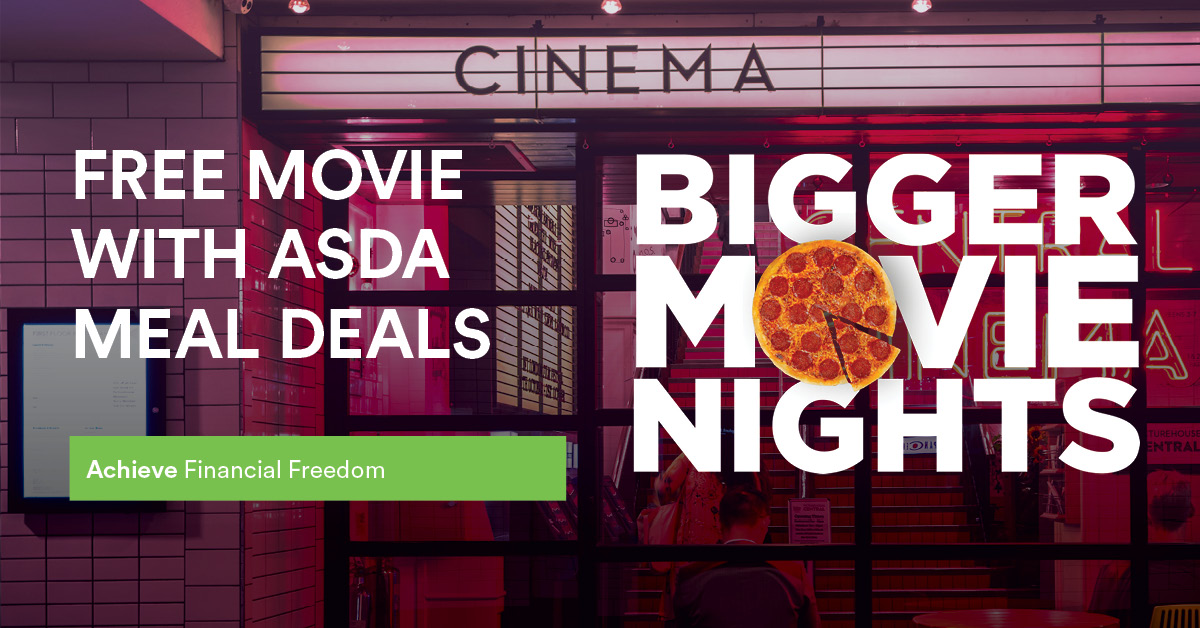 What's included in the £6 pizza movie deal?
For £6 you get 2x Medium pizzas and a drink. Pizzas must be bought from the in-store pizza counter. You have the choice of Stonebaked Thin & Crispy or Deep Pan pizzas including: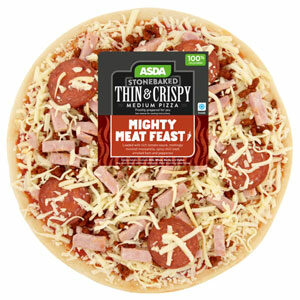 Cheese Meltdown
Pepperoni Feast
The Sizzler
Mighty Meat Feast
Aloha Hawaiian
In addition to the above, the Very Veggie Supreme and BBQ Chicken & Bacon Stonebaked Thin & Crispy pizzas are also available.
You'll also get the choice of a drink
1.75l Coca-Cola
1.75l Coca-Cola Zero
1.5l Fanta Orange
1.5l Sprite Original
Savings on the £6 Asda Movie Deal
How much do you save on the £6 Asda Pizza Movie deal?
Each of the pizzas is normally £3.50 each and the drinks bottles £2.10 each. Without the deal this would be £9.10, so you're saving £3.10 already. Add on the Sky Store movie voucher which is worth £5.49 and your total savings are £8.59. Not too bad.
This offer is currently valid and is due to continue right through to the 2nd April 2023. Perfect for those Christmas gatherings or cold nights staying in.

What's included in the £12 extra special meal deal?
Well of course this is the extra special £12 meal deal, so I'm expecting alcohol big things. Each of the elements below is of course from Asda's Extra Special range, meaning they'll be packed full of flavour and taste great.
1x Main course
ASDA Extra Special Cottage Pie
ASDA Extra Special British Sirloin Steaks with Pink Peppercorn, Garlic & Herb Butter
ASDA Extra Special British Beef Lasagne
ASDA Extra Special British Steak & Red Wine Pies
ASDA Extra Special Pancetta Wrapped Chicken Breasts
ASDA Extra Special Pulled Chicken & Wiltshire Cure Ham Hock Gratin
1x Side dish
ASDA Extra Special Braised Red Cabbage
ASDA Extra Special 2 West Country Cheddar & Roasted Garlic Flatbreads
ASDA Extra Special Creamy Dauphinoise Potatoes
ASDA Extra Special Green Vegetable Medley
ASDA Extra Special Creamy Garlic Mushrooms
ASDA Extra Special Rarebit Butter Mini Jacket Potatoes
ASDA Extra Special Beef Dripping Roast Potatoes
ASDA Extra Special Triple Cook Chips
ASDA Extra Special Creamy Cauliflower Cheese
ASDA Extra Special Wyke Farms Cheddar Maris Piper Mash
1x Dessert
ASDA Extra Special All-Butter Sticky Toffee Pudding
ASDA Extra Special 2 Belgian Chocolate Millionaire's Desserts
ASDA Extra Special 2 Sicilian Lemon Baked Cheesecakes
ASDA Extra Special 2 Red Velvet & Sparkling Chocolate Sponge Puddings
1x Drink or Chocolates
Lily O'Briens Petit Indulgence Collection Chocolate
La Méridionale Merlot Syrah
Diet Coke Glass Bottles
Bottlegreen Sparkling Presse Elderflower & Raspberry Twin Pack
La Méridionale Rosé
Stella Artois Unfiltered Bottles
Savings on the £12 Asda Movie Deal
If you were to buy these items separately outside of the meal deal, the cost would be £16. So not only are you getting a free movie from the Sky Store valued at £5.49, you're also saving £4 on the meal itself. Class!
This offer is currently valid and is due to continue right through to the 12th January 2023.
How to redeem your Sky Movie Voucher
If you've bought your meal deal in-store be sure to keep hold of your receipt. You will need this to redeem the voucher.
If you bought your meal deal online, you must wait until midday, the day after your delivery / collection was received. After that, you'll be able to claim your Sky Store Movie Voucher.
Visit www.movienightsin.co.uk
Choose which meal deal voucher you are redeeming. The £6 or £12 one.
Complete the registration form
– If you placed your order online, enter the Order number and Delivery / Collection date
– If you bought your meal deal in-store, upload a photo or scan of your receipt.
You will be sent the voucher code which you can then redeem at the https://www.skystore.com/n/rdvc/redeem-voucher website.
It's important to use a valid email address you can access as this is where the voucher will be sent within 48hrs!
Want to achieve financial independence?
You could spend the next 13 years learning about personal finance and putting your knowledge into action. Or you could take my FREE 10 day mini course and weekly emails. I'll show you exactly how to become financially independent. My only question is, whats stopping you?
Vue Cinema Asda pizza deal
If you're looking to hit the big screen for the latest releases rather than watch them at home then the £6 Asda Movie Deal also has something special for you.
Instead of watching a movie from the Sky Store, you can choose to exchange your voucher for a single-use 2D cinema ticket at the box office, or https://www.myvue.com/ where you can select your film/time/seat and enter the code given by selecting 'Add a promo code'. The voucher can be used for any location and any standard-release film, but cannot be used to make bookings over the phone.
Recap
The Asda Movie Deal is incredibly popular right now as it offers a good saving on your meal and a genuinely free Sky Store Movie, saving you nearly £10 on a night in. It's important to note the £12 meal deal was expected to stop prior to Christmas (13th December) but this has been extended to 12th January 2023. The £6 Asda pizza meal is valid right through to the 2nd April 2023.
Frequently asked questions
I bought two Asda meal deals but only got one movie voucher. Why?
Only one Sky Store Online Movie Voucher is issued per approved receipt. If you are buying more than one meal deal, it is best to do this in separate transactions to ensure you can receive multiple vouchers.
Do I need Sky TV to redeem my Asda Meal Deal vouchers
If you have Sky TV, you can watch Sky Store movies and TV shows on your compatible Sky box
You can also watch Buy & Keep movies and TV shows on your:
– PC/Mac
– Android/iOS using the Sky Store app
– NOW TV and Roku
– LG Smart TV
How long is the Sky Store Movie Voucher valid for?
The Sky Store Movie voucher is valid for 7 days from receipt, but once added to your account you have 12 months to use it.
How do I claim my free Sky movie from ASDA?
Go to www.skystore.com/redeem, enter the voucher code you received from www.movienightsin.co.uk and sign up/sign in to link the redeemed voucher to your account. Now you can choose from the range of Sky movies available at that time.
I don't have Sky TV. Can I still redeem my Asda Movie Deal?
You do not need to be a Sky TV customer to redeem your free Sky movie voucher. Visit skystore.com and set up an account. You will be able to redeem and watch your Sky Movie from here.
Asda movie deal not working, what do I do?
If you're having issues accessing your voucher on movienightsin.com then you can contact their customer service department. They'll ask a few questions and then provide you with your voucher if applicable. You can contact this team via https://www.movienightsin.co.uk/contact-us
Whats this Asda movie deal £5 before?
Up until 2021, the Asda movie deal was £5, but the price has increased to £6 in 2022 and beyond. It still reflects a great saving on the 2x Medium pizzas, soft drink and a free Sky Store Movie.
What movies are available on the Sky Store?
The Sky Store offers the latest movies that are straight from the cinema, to be watched anywhere anytime. At any time you can expect the latest blockbuster releases that can be watched on most smart devices or your Sky TV box if you are a subscriber.
MORE: How much is the Haven Play Pass? & What is the Asda Rewards App?