Before I get into this article, I have to point out that it is indeed NOT sponsored by Lidl. However, as a Lidl shopper and huge fan of the brand in general I want to help others maximise their shopping for minimal cost with the current Lidl offers this week.
But I will add a caveat! While Lidl are awesome and its offers often make them one of the cheapest supermarkets in the UK, it always makes sense to shop around. Always check the offers for your kitchen staples across all the major supermarkets.
We will do our best to update this article on a fortnightly basis as the latest Lidl offers are put public.
What are the current Lidl offers?
There are a number of ways to find out the current Lidl offers. I love the fact that Lidl continues to print its offer brochure. I always pick one up when in the store and flick through it at home.
Lidl offers leaflets – You can pick these up in-store, view them online via the Lidl website or check out the latest leaflets within the Lidl Plus app.
Lidl website – All the offers are shown on the Lidl Website, though its just not as pretty as the leaflets on the app or for download.
Super Saver Offers at Lidl – 6-12 April 2023
This week there are some fantastic offers on fresh food items at Lidl. Turnips, Parsnips, Carrots and Baby Boiled potatoes can be bought for a super low price. There's a huge 14% off Lidl's Pork Loin Roast and Chicken Breast Mini fillets also. Lidl makes cooking fresh food from scratch super cheap.
In addition, Lidl also has a great offer on Beef steak mince and a roast in the bag whole chicken and I can confirm it is delicious.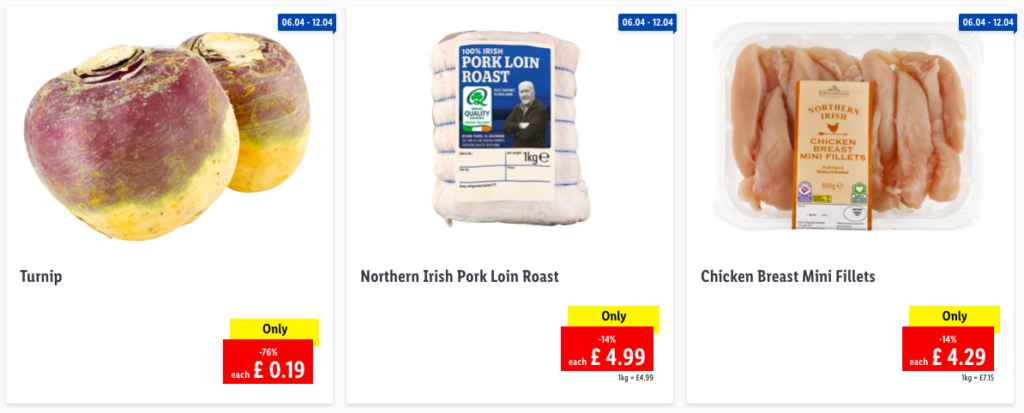 Lidl Easter Food Offers – 16-23 April 2023
Each of the supermarkets offers huge deals and discounts at Easter and Lidl is no different. Over the Easter period this year, Lidl is helping to keep the cost of food as low as possible with the following deals. I may be picking up a few of these myself.
I can tell you that the Ham Fillets are of great value. I paid £9.99 just last weekend for a 1.5kg one at the local EuroSpar.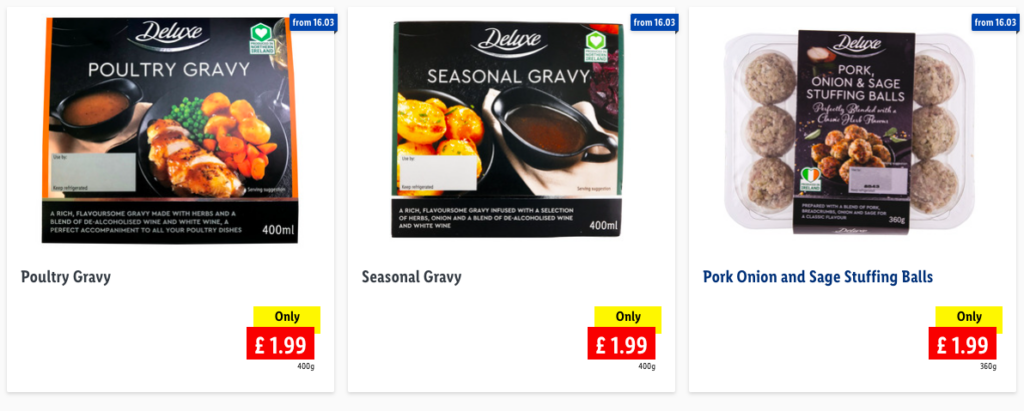 Top Money Saving Tip: Buy now, freeze for later.
Many of the fresh meat and vegetable products you buy are suitable for freezing before or after cooking. Buying in bulk and freezing in portion-controlled sizes is a fantastic way to make use of the current offers and save money on your food bills. If you cook your food together and then portion after this, it also makes meal prep a doddle, saving you time in the kitchen.
How to maximise your savings with the Lidl Plus App
Do you use the Lidl Plus app? If not, you're missing out on exclusive offers, freebies and the chance to win fantastic prizes throughout the year.
What else can you do to save money while shopping at Lidl?
Shop the offers
Planning your meals each week is a fantastic way to save money on your family's food costs. Before you do your online shop at other supermarkets or shop within the Lidl store, check what the current offers are and build these into your meals. For example, when fruit and vegetables are in season, they are cheaper than at other times of the year. Buying food that is on offer or in season can keep your food costs as low as possible.
Cook from scratch
Convenience is a tax on those who are short on time. There is always a time and a place for grabbing a pizza to put in the oven, but for those of us who can spend just a few minutes more preparing our food, then there are huge savings to be had.
A recent example that was pointed out to me was microwaveable mash potatoes. A single 400g pack of mashed potatoes can cost anywhere from £1.00 to £1.75, however, a 5kg bag of potatoes in Lidl is around £3.00. With a little bit of time to peel, boil and mash the potatoes, you could bring down the cost of a 400g portion of mashed potatoes to around 30p including cooking costs.
Bulk meal prep
If you're calorie counting or watching your macros, #mealprepsundays are probably a common occurrence. However, for the rest of us, bulk-cooking food might feel a little alien. It shouldn't though and is a great way to save on your food.
How often have you cooked too much, only to put it in the fridge for a week and then throw out the remaining food? Once is too often! Instead, cook with confidence and portion your food for multiple meal. Buying a slightly larger but better value cut of meat and then portioning it into 2 or 3 portions keeps your meal cost low. Once it's cooked ensure you freeze and store it correctly, then when you want to, grab it from your freezer, defrost, reheat and enjoy. Meal Prepping is amazing for busy families or those working long hours,.
Have you heard about Lidl Breaks?
Lidl has teamed up with a huge number of hotels across Northern Ireland and the Republic of Ireland to offer Lidl Breaks to their customers. These exclusive discounted hotel stays are split across their luxurious Elegant Escapes 4* and 5* hotels and other more budget-friendly 3* and 4* Super Saver hotels.
Hotel breaks start at £37pp per night sharing and there is a huge choice of hotels right across the country. What I really like about the Lidl Breaks website is that there is also the ability to buy gift vouchers. This way you can buy even just a small amount over the course of a few months and spread the cost of your nights away.
Recap
Lidl offers great value pricing on a huge range of products, but the Lidl offers takes this a huge step further. Remember that the key to saving on your food shopping is planning your meals and only buying what you truly need.
While I'm a huge fan of Lidl, always check the other supermarkets prices for comparable products as pricing changes frequently and Lidl may not be the cheapest supermarket for your food, when you are buying this weeks shop