Christmas is a time for indulging and splurging. It is also a time for giving, receiving, spending and of course, enjoying yourself. Even if you haven't been extravagant this Christmas, sometimes we overdo things or spend beyond our means. The financial hangover from our decisions can often last long after the memories fade.
Do you want to achieve your financial goals, pay off or stay out of debt? If you answered yes, then you might consider a financial detox to kick-start your New Year. But what is it?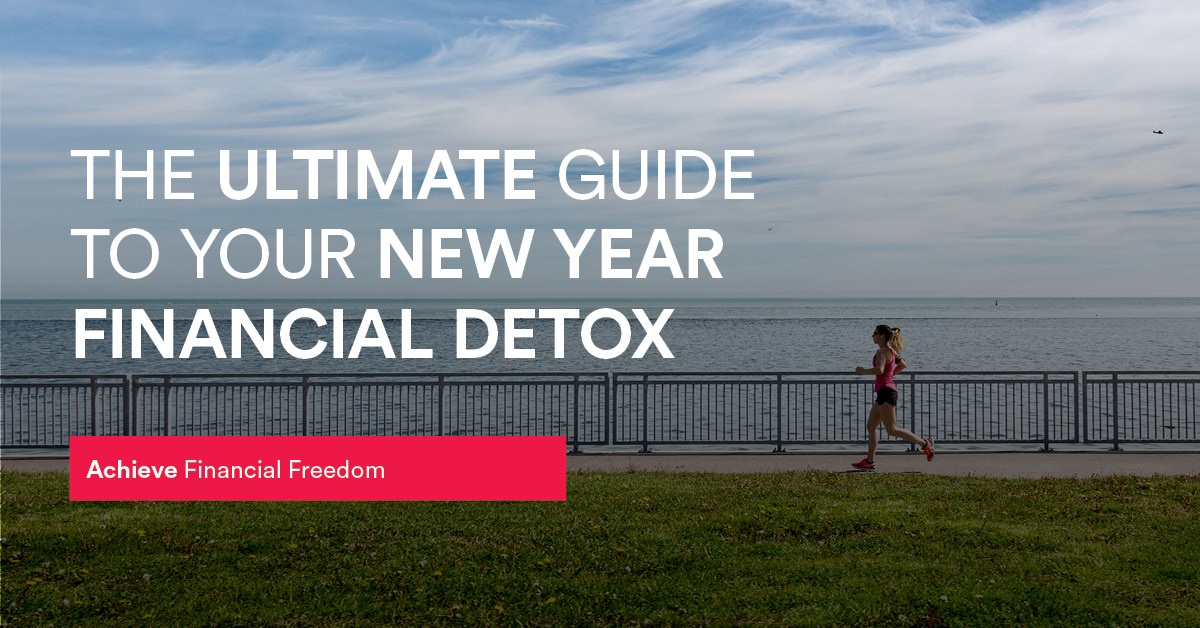 What is a financial detox?
Have you ever tried to eat better, and drink more water in an effort to be healthier? Often we think about these things after a period of over-indulgence, like Christmas or summer holidays. When deciding to detox, we make our best efforts to change the negative habits and to live a healthier/better life.
Much like a health-focused detox, a financial detox looks at how you can reset or create better money habits, control your spending, and remove those unnecessary expenses that have crept into your budget each month. Consider it to be a colon cleanse for your finances. Actually don't, that sounds disgusting.
But talking about money is taboo
Money much like sex is a sensitive subject to talk about. Apart from that one friend who shares too much, many choose to say absolutely zilch about it, even to their partner, husband or wife. This inability or unwillingness to speak about money often comes from worry or fear of what people will think of our choices. Choosing to make money a non-taboo subject opens up discussion and allows you to tackle challenges head-on.
It's important that we break the stigma around money talk and normalise speaking about it. Being 'money positive' will improve communication around money in our lives and relationships, and this will make achieving our goals easier.
Financial Detox Video – It's pretty awesome…
4 steps to a financial detox
If you're ready to reset your finances and take control of your spending let's look at the 4 steps to get you started.
1. Mindset
Before we step away from negative financial habits and make positive changes to our spending, we need to decide that we actually want to do this. Without decisiveness or conviction to this goal, it will fall at the first hurdle and we'll step back into our old ways. There will be challenging moments during this process and a strong understanding of what you want to achieve and the mindset to support this will ensure the best opportunity for success.
Why do you want to make changes? How will this benefit you now and in the future?
A positive attitude towards a financial detox, with clear intentions and expectations, is one of the key factors ensuring you meet and exceed your goals. Always remember your WHY when times get tough.
2. Planning
To make your financial detox a success we first need to define what your financial goals are. For some, it will be to achieve financial independence or to retire early. Others may use this process to tackle debt or to pay off their mortgage. It may be that you want to save for the cost of Christmas during the year. Whatever your goal, knowing what success looks like, we can begin to plan.
Example goals could also include:
Paying off a car loan or other debt
Saving an emergency fund
Maxing out your pension or ISA
Schedule regular check-ins
Part of your plan should be a review of your progress. Some people do this weekly, others monthly. Whatever timeframe suits you is entirely your decision, but make sure you hold yourself or your partner accountable to keeping to this schedule.
TOP TIP: Give the check-ins your full attention. No phones and no TV on in the background to distract you.
Track your progress
Keep a shared Google Sheet and set your goals so you can track your progress against it.
3. Understand your personal finances
Create an annual budget
Before we can cleanse our finances we need to know how we spend our money. If you don't already have a budget, then this is probably the most important change you can make to better your financial position. Your budget will include all of your spending including any household or personal expenses.
It's important to note that a budget is forward-looking. It's what you're going to spend, not a recap of what you have already spent. Personally, I recommend working on your budget for the full year. This way you can plan for annual expenses such as home insurance or for upcoming spendings such as Christmas or holidays. In doing so you can reduce the chances that you will need to go into debt to cover the cost of these larger and less frequent costs.
Much like tracking your calories or macros in a diet, planning a budget will allow you to identify all your spending. And let you see how much you can save each month towards your financial goals. If you're not tech-savvy, then you can write this in a notebook. It should include all your income and all of your spending. For those who can whizz around a spreadsheet, this will make your calculations much easier and quicker.
Clear out the junk spending
How much do your spending habits cost?
Takeaway coffee and snacks: one coffee and a sausage roll costing £3.50 each weekday is £910 a year.

Car payments: with an average car payment of £296 a month, the cost of owning a car is at least £3,552.

Cigarettes: the cost of a 20-a-day smoking habit in the UK is around £12.50. Over the course of a year this totals over £4,562.

Only you can decide whether your spending is based on good habits or bad. It is important though that you know exactly where your money goes each month and what this looks like over the course of a year.
The more you save in your budget, the more you can put towards your financial goals.
You wouldn't be reading this article if those goals weren't important. With that in mind, I'm going to give it to you straight. Your financial goals are more important than a new car, your Netflix/Disney/Prime/Paramount/BT Sport subscription and your takeaway dinners. You will look back in years to come and thank yourself for changing your habits now. Do it!
If you're waiting for a sign, this is it!
Want to save lots of money?
We scour the web for the best money-saving tips and news about deals for our readers. To find out about these amazing offers first, sign up for our newsletter below. 
More money-saving tips
Cut the cord or the subscriptions – ditch unused subscriptions or memberships. Or decide to maintain only one subscription a month. Binge-watch all on that platform and choose another for the next month.
Make packed lunches – eating out every day will decimate your budget. If you're short on time meal prep will be your biggest ally.
Choose experiences, not things – for the most part
Borrow books – if you're an avid reader then, the library should be your go-to for books. Even if you read on a kindle, the library will have the latest books in appropriate formats.
Shop around – for food, phone contracts, utilities and any of your household bills. Loyalty, unfortunately no longer pays as it once did.
Get a side hustle – there are hundreds of ways to make money in your spare time. It used to be called a second job. Nowadays it's a side hustle
4. Managing Debt
If you take nothing away from this article other than the comment below that's enough for me.
The fastest path to failure in your finances is by getting into or taking on more debt. Avoid it at all costs.
When looking at your budget, you may have noticed some recurring payments towards loans or debt that you've taken on. Paying down debt should be the first step towards your financial goals. Once this is cleared, then you will have extra headroom to put this towards your overall goal.
It's incredibly important to ensure you don't go into further debt. If you noticed that in your budget, you spend more than you earn, this could lead you into financial difficulty. Make changes now to bring this under control and use your budget to plan for upcoming expenses. This will help you spend within your means and keep to your budget.
Ultimate tips for a financial detox
Allow yourself a treat or two
Much like a diet, going all in or being too strict on a financial detox can lead you to fail under pressure. It's important to build in treats or "cheat meals" to keep you on track. This doesn't mean you undo all your good work, but rather build in rewards that ultimately keep you on track. Achieving 90% of your goals is better than failing entirely.
Make steps forward every day
A number of our readers previously messaged that consistency of moving towards their goal increased when they were actively completing smaller, more frequent goals.
One of their goals for example was to cut out their daily coffee and pastry from the coffee shop. Each day, instead of paying £3.50 to the coffee shop, they move this sum into a separate pot in their Monzo account. Mentally this money was still spent each day, but they had the added bonus of seeing the money compound in their separate money pot. Each week they transferred the total balance in their pot towards paying off their credit card and then eventually towards their investments.
Find an accountability buddy
Whether this is a partner, friend, financial coach or accountability group, being held accountable is often touted as a huge factor in helping people stay the course. Choosing someone with similar goals, who you can trust is key.
Treat savings like a bill
Most people save whatever's left at the end of the month. Treating it like a bill and paying it regardless ensures that you always meet a minimum goal. At the start of every month put 50-60% of your savings goal automatically into a different account. Then work the rest of the month to ensure you can meet your target. When you're already halfway there or better, the goal doesn't feel so lofty.
There's no time like the present to start
As the New Year rings in change, this is almost a perfect time to consider a financial detox.
January is often a quieter/frugal month in most households
We may have over-indulged over the festive period or are in the right mindset to make a change
Our goals for the following year may include some financial ambitions
Many are off and can dedicate time towards setting a budget
With all that said, however, a financial detox can happen at any time in the year and you should never wait for the perfect time to start. It will never come.
Recap
Success is not guaranteed in life and you will have to work hard to meet your financial goals. Financial detoxing is a great way to kick-start better money and saving habits. Set your goals, truthfully acknowledge where you are financially and work hard to build a headroom between your income and spending. Don't be afraid to push yourself to your limits, as even if you don't reach them, you'll be in a far better position than you are today.
Good luck on your journey and please feel free to connect on Twitter with those in our community embarking on a financial detox for the next year.