As part of our Financial Detox content series, we've put together a number of articles around the incredibly worthy activity of budgeting. Today we're looking at the best budgeting apps for those of us in the UK and looking to see what the pros and cons are of each of these.
An important reminder though – the best budgeting app will always be the one that you consistently use to keep your budget in check. With that in mind, the perfect budgeting app for you will be the one you are most comfortable using.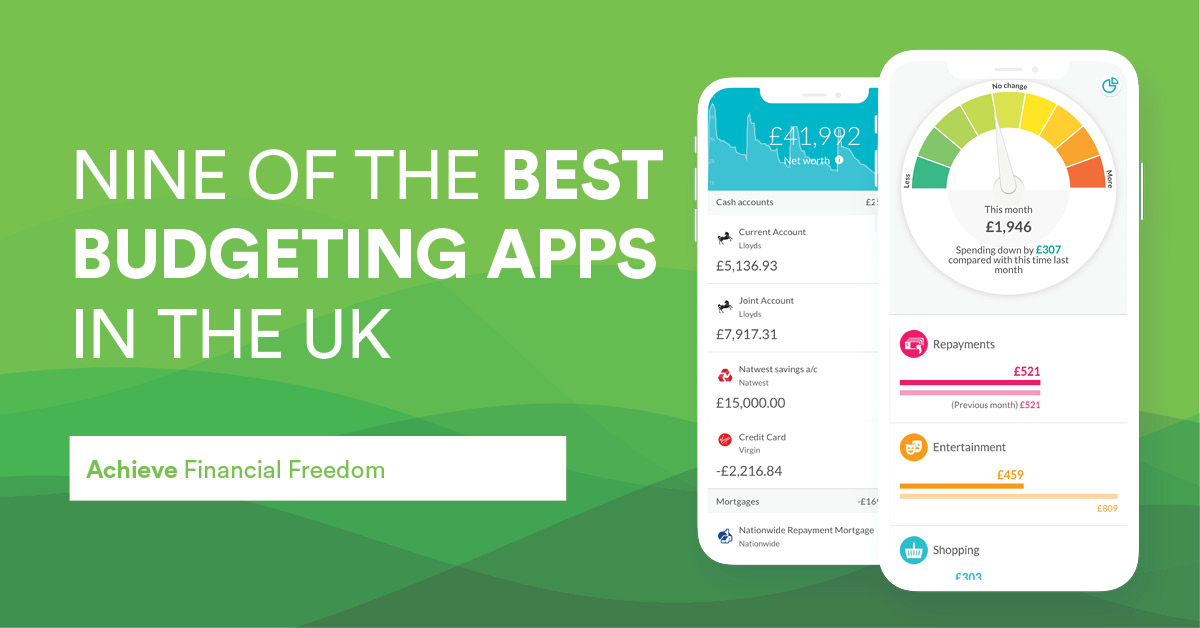 Why setting a budget is important
Budgeting is the cornerstone of any successful financial plan. Without an understanding of what we earn and spend, we will never be able to create the headroom needed to allow us to put our money to work for us.
If there's one thing you can do to immediately prioritise your finances, it's budgeting. Many fear a budget because it sounds complicated. It's something that the accounts department manages with calculators and a spreadsheet called the Budget-a-tron-3000-v383-final.xlsx.
Many people also struggle with the idea of budgeting because it shines a light on both our positive and negative spending habits. Your first budget may be hard to read. But with focus and a spotlight on where our money comes and goes, we can make informed decisions about how we spend our money.
Budgeting is forward-looking
Many people think of budgeting as a review of what you've spent. In the true essence of budgeting, it should be considered from a forward-looking perspective. It's not what we've spent, but what we're going to spend. The primary benefit of this is that it focuses to think about our spending habits well before we need to part with our hard-earned money.
Have you ever gotten to the end, or even the middle of the month and wonder where your money has gone? We often can attribute the majority of this expenditure to a few standard expenses, rent, food shopping and utilities. But it's common for us to forget a good proportion of the transactions we've made in the weeks gone by.
While budgeting helps us to plan our spending, a budgeting app allows us to accurately track our expenses for review later on.
Do you need an app to budget?
Absolutely not! You can budget with just a pen and paper, or on a google sheet. As long as you're tracking all your income and expenses, then you can use as much or as little technology as you want.
How do budgeting apps work?
Many of the apps featured below will automatically consolidate your income and expenditure into one dashboard. These could be your current accounts, savings accounts, credit cards or investments. The apps securely fetch all data from your accounts and present them in your budging app. Many of the apps also automatically categorise spending into related categories, making the process of monitoring your budget as effortless as possible.
Some apps noted below do not connect with your accounts directly, but rather allow you to export your statements from your banks and then import them into the apps.
You may also choose to do your budget via pen and paper or via excel and this give your full control over the input of data.
What are the best budgeting apps in the UK?
Below I've listed some of the most popular budgeting apps in the UK. As new apps come to the market, I'll further update this list. Each of these budgeting apps has its own unique feature set. It's important to give consideration to what you need most from an app and what budgeting app will best support this.
Emma
Money Dashboard
My Moneyhub app
Snoop
Plum
Monese
Revolut
Monzo
Starling
Emma – Budget planner tracker
Emma is a free money management app that allows you to budget, save and invest all within the app. It has a great feature that helps you find and track subscriptions, bills & expenses by connecting all your accounts in one place.
Key features
Connects to your bank accounts and collates all information within the app
Find and cancel wasteful subscriptions
Set budgets while tracking income and spending
Identify and track bank fees
Boost your savings with Pots and reach your financial goals
Countdown paydays and know when you get paid
Supports connections with major crypto platforms.

Money Dashboard
Money Dashboard is a free budgeting app in the UK. It won Best Personal Finance App 2021, 2020, 2018, 2017 and is used by over 500,000 people across the country. Money dashboard is not a banking app, and therefore there will be no payments to others or bills being paid from the app. It provides a snapshot of your finances and collates from multiple sources in one application.
Key features
Connects with over 60 current accounts, savings accounts and credit cards
Automatically categorises transactions
Ability to create custom categories
Ability to split transactions
Available on desktop and mobile
My Moneyhub App
The My Moneyhub app uses open banking protocols to bring all your accounts into one easy-to-use app. Keeping everything in one place, it helps you categorise and manage your spending, keeping you on track with your financial goals.
Key features
Spending goals easily allows you to set and manage budgets
Provides insights on your spending
Connects hundreds of bank accounts, credit cards, investments, savings and borrowing via open banking protocols
Ability to split transactions across multiple categories
You can make a payment in Moneyhub between each of your linked accounts
Moneyhub does charge a small fee (£1.49 a month or £14.99 a year) to use their app. This is in contrast to many of the other budgeting apps that provide their service for free. However, Moneyhub justifies this by saying that it will never sell your data to third parties. The first 6 months of your Moneyhub app subscription are free.
Snoop
Snoop is a free money management and budgeting app, that helps you track your spending, cut your bills and control your finances. Unlike other budgeting apps, it monitors your household bills and provides suggestions for alternative cheaper suppliers. Snoop uses Open Banking protocols to safely and securely transmit data to and from the app.
Key features
Tracks your household bills and helps suggest cheaper alternatives
Connects your bank accounts and credit cards all in one place
Provides savings suggestions based on your spending history
Tracks monthly spending
You can create custom categories for ultimate personalisation
Plum
The Plum budgeting app has over 1 million users and its core feature focuses on the a.i integration. Using artificial intelligence, the Plum app automatically analyses transactions giving you control of your money. Within the app, rules can be set to automate your saving, making this effortless. Plum also allows you to begin investing within an ISA, SIPP or General Investment Account. You can start investing with as little as £1.
Key features
A.I integration to analyse transactions and provide budgeting recommendations
Integrated saving rules to choose from
Connected to Open Banking, allowing you to connect hundreds of accounts
Built-in investment platform
Bill switching suggestions based on your household spending
Budgeting apps built into digital-only banks
With the rise in popularity of digital-only banks, we need to also give consideration to these apps for their budgeting options. Below we've outlined some of the key budgeting features from some of the most used digital-only banks.
Monese
One of the original digital-only banks in the UK, Monese continues to innovate with some of the best budgeting features in any banking app.
Key features
Round-up feature for every transaction with a multiplier to increase your saving potential
Money pots with savings goals and Joint Pots for joint saving
Spending alerts
Categorisation of expenditure
Revolut
With over 25 million users worldwide, Revolut is one of the leading digital only banks in the world. Within the app you can manage your spending, plan for your future with savings and investments, make currency exchanges or foreign transfers. Like the other online banks, the Revolut app has a suite of budgeting tools to help you manage your income effectively.
Key features
Good for payments in multiple currencies
Ability to set spending limits
Spending insights presented by the app
Secure money for committed spends with the Pockets feature
Free trial ending alerts function
Monzo
With 6 million users in the UK, Monzo is one of the leading digital banks. It's easy to use interface is packed with features. From a budgeting perspective, Monzo has limited functionality. But this lack of functions is more than made up by their quality. We particularly like the user experience design in the Monzo app as this
Key features
A key feature of the Monzo app is the ability to create pots. When your salary is received into the account you can sort this into each of your created pots. For example, if you chose to save for Christmas year-round, you could create a "Christmas" pot and each month contribute towards it.
Spending round-up allows you to round up every payment you make to the nearest pound. You can automatically assign this payment to one of your pots.
Set budgets for categories such as groceries and going out, and get warning notifications if you're spending too fast each month
Starling
Britains first digital bank, Starling changed banking in the UK forever. Trusted by millions of individuals and businesses across the country, the Starling digital bank provides a single app that can be used to help you manage your budgets easily and effectively.
Key features
Bills Manager – Put money for bills aside, and pay them straight from a Saving Space
Personal Spending Insights – Spending Insights gives you a sneak peek into the inner workings of your own financial life.
Saving Spaces – Create visual spaces within your account for all your saving goals. Money is ring-fenced from your main balance. 
Settle Ups – Never forget an IOU with the settle ups feature
Can I use google sheets to plan my budget?
While apps may make sticking to your budget a bit easier, there is also the argument that they add a layer of complexity to your budgeting. Personally, I prefer to use a good old spreadsheet to manage my finances and I do this within Google Sheets
The key benefit of a spreadsheet to manage your budget is the extreme flexibility of use. Using an online service such as google sheets you can share this with whoever you need to and track everything from almost any device simultaneously.
Of course, this does require a level of knowledge to set up a spreadsheet and for the most part, you need to manually update your spreadsheet with your income and expenses. But if you're willing to put the effort in, then you'll know exactly where your finances are at any time and to the exact penny.
Free budgeting spreadsheet
Keep an eye out here on the site and on my youtube channel in January as I'll be sharing my own Google Sheet budget tracker for free and showing you how to use it.
How to stop going over budget
If you looked at your spending and realised that you're spending more than you earn, this should be treated like a hair-on-fire moment. Going over budget will deplete any savings you have and eventually lead you into debt. Going into unnecessary debt should be avoided at all costs. But that is often easier said than done.
If you go over budget in one month, look at how you can recoup the overspending in the coming months by spending under budget. However, if your regular monthly spending is beyond your budget, then you will have to put effort into bringing down your expenses in line with what you can afford.
A great way to review your spending is to start with a financial detox and I cover this extensively in this Ultimate Guide to a financial detox article.
Recap
Frankly, each of the budgeting apps above provides great tracking and analysis features that can help to make budgeting a much less laborious process. I love the ease of use functionality they bring to the table and the constant reinforcement of your focus on saving goals. As noted above, the best of the budgeting apps will always be the one that you continue to use. Whether you go old school pen and paper, a google sheet, or use one of the budgeting apps listed above, consistency of use is the driving factor behinds its success.
FAQ
Is my data safe in a budgeting app?
With any digital system, there is always the risk of an unauthorised breach. With that said, many of the budgeting apps use the same level of data encryption and security as the major UK banks. This along with security protocols such as ensuring they only access your data in "read mode" mitigates the risk of your linked accounts being accessed and money stolen if the app is compromised.
Is there a risk? Always, but it's minimal.
How do Free Budgeting Apps make money?
The majority of free budgeting apps make money on the data and insights their apps provide. This helps companies with market research in identifying trends and consumer behaviour.
If you're not the customer, you're the product. Sometimes both.