I write this article, not for you, but selfishly for myself as today marks the start of my 100-day countdown to early retirement. I woke up with mixed emotions. On the one hand, I am excited to be in the position to move into a new phase of my life. Conversely, on the other side, it's scaring the shit clean out of me. I guess that's par for the course. Yeoooow, it is happening. Eeek!
With all things in life, being prepared is the key to success. Failing to prepare…..just prepare. Ok? With that said, here are 13 things to do before you retire early. 
The most important step in planning for your retirement is understanding whether or not you can afford to do so. For those early retirees focused on financial independence, this will of course be top of mind for the longest time. As markets move up and down, ensure you know exactly how your finances are doing, before you decide to retire.
You know your net worth and asset allocation, but in the run-up to early retirement, give it one last check and run over your numbers.
It's one thing to set a budget, but sticking to it is another entirely. It's wise to live on your expected budget for the 12 months before retirement to ensure that it meets your needs. Track your spending religiously over the year to ensure you know when the true picture of your expenditure.
Will any of your expenses increase or decrease in retirement? Car insurance for example may be less expensive for retirees where the commute is now non-existent. Will your heating bill increase to meet the needs of you being home more often? Consider your bills and understand how these may fluctuate. Account for the differences in your budget.
Many early retirees choose to pay off debt before they quit employment so that their monthly expenses are as low as possible. Whatever your budget, there's always an opportunity for optimisation.
Cashflow & withdrawal strategy planning
The transition from saving and investing to withdrawing and spending will be a challenge for many early retirees. It's literally the opposite of many years of conditioning to build wealth. Having a solid but flexible cash flow plan and withdrawal strategy will protect your retirement finances and help you sleep better at night.
If you're so inclined, write down your plan. It can do wonders for your sanity when you question yourself or your actions in the future. You've made a sound plan in normal circumstances. Don't fret about it, if the world and markets are in a state of chaos.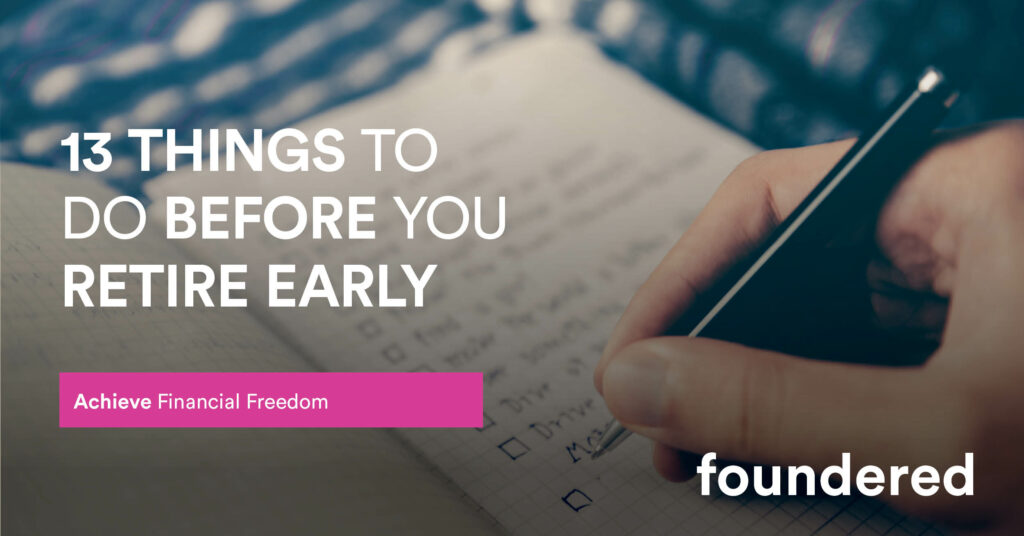 As the majority of UK benefits are means tested, it's unlikely that you'll be able to avail of any significant benefits in early retirement, however, this should not be overlooked. Child benefits eligibility comes from current income levels and once you or your partner's individual income is below £50,000, you should be able to claim the benefits in full.
As a non-worker, child benefits can also give you national insurance credits up until your child turns 12. This will ensure you do not have gaps in your National Insurance record and help you reach the full requirement for your State Pension.
For more information visit – https://www.gov.uk/child-benefit
Want to achieve financial independence?
You could spend the next 13 years learning about personal finance and putting your knowledge into action. Or you could take my FREE 10 day mini course and weekly emails. I'll show you exactly how to become financially independent. My only question is, whats stopping you?
It's not impossible to get a mortgage without an income, but you'll jump through a myriad of hoops and likely pay a higher interest rate. If you are considering moving home in retirement, it is advisable to consider this early.
Offset Mortgages
Offset mortgages are a fantastic way to lock in your mortgage for an extended period without incurring interest charges. Once you have the offset mortgage approved, the money can be "saved" in the mortgage account, so that no interest is due on the mortgage. Once you use the saved amount for the purchase of your new property, interest becomes payable.
Offset mortgages are one of the best hacks for those looking to pay off their mortgage early also. We'll have a new article on this shortly. So please check back soon.
Away from offset mortgages, it may make financial sense to lock in a new rate or longer term on your mortgage before retiring early. Check with your mortgage provider to understand what early repayment fees may be applicable and weigh this up against any potential interest rate rises that may happen in the coming months.
Connecting with your network outside of work
Even if you have no intention of building another business, many of the contacts you've made in the past life in business will have become friends and trusted associates. While you may not speak to them daily, it's always a good opportunity to keep your network fresh and lines of communication open.
Like many business owners, our work phones and emails are a hybrid of work and personal use. Make sure you establish a non-work email and telephone number before leaving the workforce. If I had to do this again, I'd never use my work email and number for personal messaging.
One of the main goals of early retirees is the reclamation of their physical and mental well-being. Starting this process well in advance of your early retirement is core to not only becoming healthier but will help you to effectively manage the slowdown that early retirement brings.
If you currently have company-provided benefits for healthcare, utilise these before leaving employment.
Get a dental check-up
Fix that recurring neck pain with physio
Worried? Speak to someone.
Decide when you'll give your notice
No business like surprises or drama, so unless you want to leave in an EPIC F*ck you scenario, giving as much notice as possible will help your employer plan for your departure.
Train your replacement and give them all the knowledge they need to succeed in their role. Spend time answering questions now to reduce phone calls on the other side.
Business Owners – Leave the business in the best possible position to succeed in your absence. The legacy you created will provide future opportunities.
As this may be your final year earning an income, it may make sense to maximise your personal (SIPP) or workplace pension contributions. Depending on what month of the year you intend to leave, this may require aggressive payments.
You can of course backdate pension payments up to 3 years. If you do earn an income in the future, this can further contribute to your pension.
You may not earn an income from employment in retirement, but many of your income streams or funds may be subject to taxation on drawdown. Planning for this is core to minimising taxes in retirement.
Noted below are some of the 2022/2023 limits before taxation. If retiring early as a couple, planning for both partners, allows you to double this amount.
Capital Gains Tax up to £12,300 per annum before taxation
Personal Allowance – Up to £12,570 before taxation
ISAs – Free from taxation
Pensions – Taxed as income at your current income rate
With planning, it's relatively easy to pay little to no tax in retirement. As someone who's paid many taxes in employment, do you want to pay any more?
Get a 2nd opinion on your finances
Understandably, you know your finances like the back of your hand. As an early retiree, this has been the focus of your attention for many years. However you feel about your financial position, one further set of eyes over your plan is prudent.
Look for a fee-only financial advisor who will give you unbiased advice on your personal financial situation. Once they've also given you the green light, you may find you sleep better, knowing your plan was correct all along.
Retiring is one of the most significant changes you will make in your adult life. As an early retiree, this is multiplied. Whether you think you need to or otherwise, talking through your early retirement plans will help you understand what is to come.
As a business owner, moving to retire early you also have some unique challenges. For many, their identity is wrapped up entirely in their business. Separating and unwinding these entities will pose some serious questions and personal challenges.
Your purpose is no longer your business. You may not like this, even if early retirement was the goal all along! Speak to someone
Start new activities and hobbies
Start building and reinforcing connections with those you'll be able to spend time with in your retirement. Doing so early in the process means your new activities are already established and a new network is being built.
Your friends won't be available during the work day. Want a round of golf on a Tuesday morning? You'll need a network of people who are also available.
What to do once you've retired early?
Congratulations, you've won the game. Take the time you deserve to detox from work. Readjusting to your new pace won't be easy and many say it can take up to 6 months to decompress.
Whatever you do next, you deserve it. Build the life you want free from worry about your finances. Retiring early is a luxury few people attain. Your successful planning and implementation of this plan sets you apart from the masses. What you do next is up to you!
Good luck and please share your own success stories with us. Feel free to connect with us on Twitter or to leave a message in the comments below.