It's hard to imagine a letter arriving through your door from an energy supplier and considering it to be bringing good news to your home. Miracles will never cease and today I bring you some good news from SSE Airtricity Gas Northern Ireland.
From 1st November 2022, SSE Airtricity will be spending the minimum consumption charges for customers who use less than 1,678kWh per year. This is currently standard at £302.17.
What this means, is that for those users who use little gas and their usage is less than 1,678kWh per year, they'll not have to pay the minimum charge.
Most homes in Northern Ireland will not be affected by this change, but those users who have reduced or do not use much gas will benefit from some savings.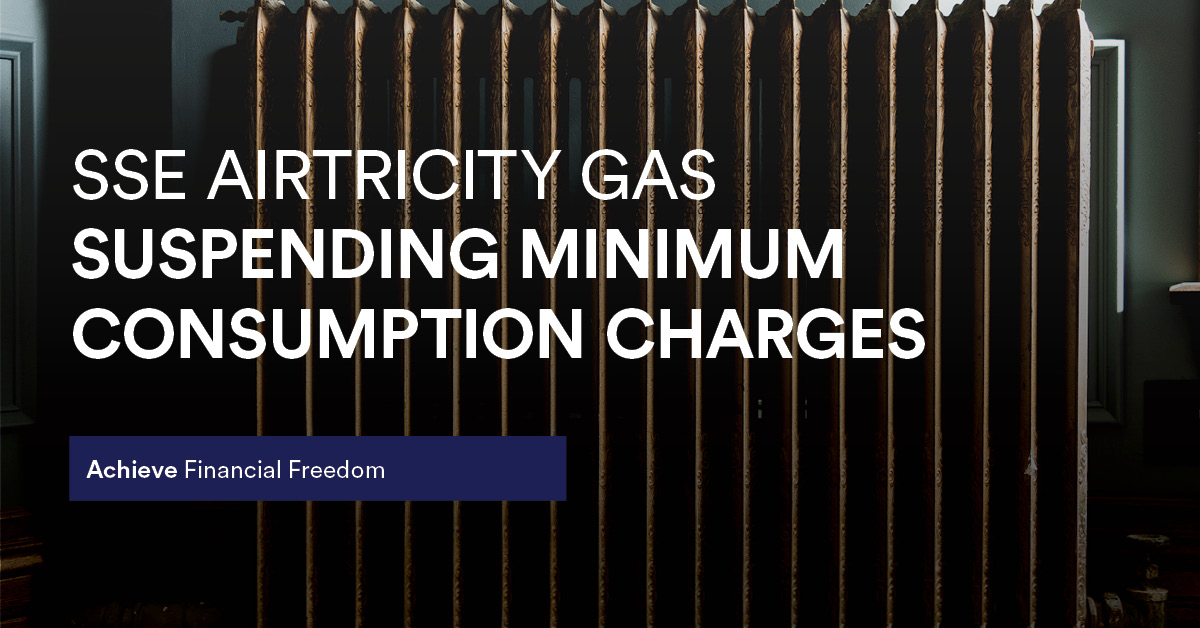 Are you having difficulty paying your gas or electricity bill?
If you are struggling to pay your energy bills due to rising costs or other factors, it is important that you speak to your supplier as early as possible. They are willing and able to work with you to find a solution. There is also free independent help and information available from the Consumer Council (0800 121 6022) and Advice NI (0800 915 4604) who provide free and impartial services including advice about energy-saving options.
How to reduce a gas bill
Many across the country are significantly reducing their gas use and prices in Northern Ireland have tripled since this time last year. While the latest bills received only this week won't come as a big financial shock, the worst is yet to come as the weather takes a dip and the more expensive tariff only started on 1st October 2022.
If you can't afford the increase in gas, then the other option is to reduce your gas usage by 2/3s. This sounds drastic and will be for many people.
Gas saving tips
Put on an extra layer of clothes when at home
Keeping yourself warm is cheaper and easier than warming your entire home. Putting on an extra layer inside will help reduce the need to put your heating on
Only put your heating on when needed
Many of us are guilty of putting the heating on a weekly timer and letting that run regardless of the weather or whether we're at home or not. A modern boiler should start to heat your home within 15 minutes, so only use it when needed. Not on a schedule.
Don't cover your radiators
When it's cold and wet outside many of us put clothes on the radiators to get them to dry quickly. This stops the heat from leaving the radiator and adds moisture to the air in your home, making it harder to heat. Always move your sofa 8-10 inches from the radiators to let the heat escape.
Make sure your home is insulated
Insulation in your roof space, curtains on your windows and a draft excluder at the bottom of your front and back doors. These measures alone will stop heat loss from the main areas that can cause issue and massively lower your gas bills.
Service your boiler
A boiler service can range between £100 and £200, but this can easily save you this money if your boiler is not working efficiently. Older boilers will need replaced and upgraded to more energy efficient ones . While there is a big cost for this, newer boilers and 30%-40% more effective and this will pay for itself in just a few years.
Lower your thermostat
It may be nice to have your thermostat sitting at a comfy 22 degrees, but do you really need to be that warm? Unless you're very young or very old, anywhere from 18-21 degrees should be comfortable and you'll save over 4% on your gas bill for every degree you turn the thermostat down
It is a myth that leaving your heating on low all day is more efficient that using the heating only when needed!
Energy Price Cap – Northern Ireland
The Government has announced an energy price cap for homes in Northern Ireland from November. The announcement is in line with the Energy Price Guarantee announced in September for the rest of the UK. It focuses on ensuring that an average household will pay approximately £2,500 a year for their energy bill for the next 2 years.
Energy suppliers will reduce bills by a unit price reduction of up to 17p/kWh for electricity and 4.2p/kWh for gas.
The scheme will take effect in November. This ensures households receive the same benefit overall as those in the rest of the UK by backdating support for October.
Households in Northern Ireland will also receive a £400 discount on bills through the Northern Ireland Energy Bills Support Scheme. There has been no timeline given for this discount at this time…