Life is not a dress rehearsal. For better or worse, it also revolves around money. As we progress through the decades, personal finance planning becomes increasingly important. It ensures we can afford the life we want and the things we desire, now and in the future. It protects our long term financial health.
It's important to note that personal finance planning isn't just for rich people. No matter what your income, good personal finance planning means that you will understand finances better and take control of them. It will help you grow positive financial habits and take control of your money (spending, saving and investing).
A great personal finance plan will help you understand the importance of long term investing and its role in achieving financial independence.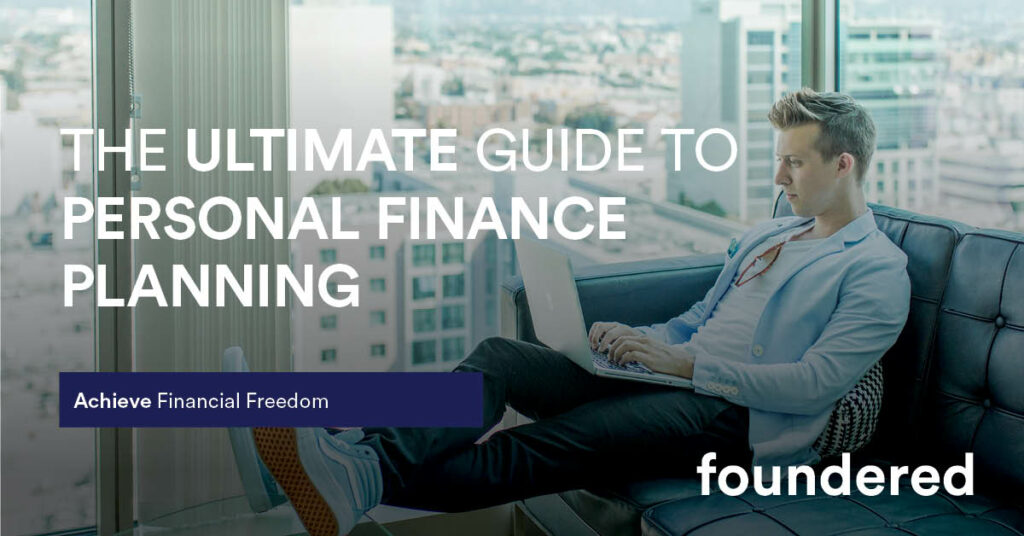 What is a personal finance plan?
Your personal finance plan is like a roadmap. It will help you reach your destination and if you take a wrong turn, you can always find your way back to the plan.
A personal finance plan will help you navigate through unexpected or unanticipated life events such as illness or job loss. It does this, because you have already considered that it might happen and planned for it.
5 steps to the ultimate personal finance plan
A large focus of personal finance planning is that you consider each of your goals and prioritise these. You very quickly understand what really matters to you and why. These become the goals you prioritise and focus on.
Similar to building a house, there is a process to creating a robust personal finance plan. While you may already be on this path, there is no time like the present to review your plan.
1. Understanding your current position
Personal finance is just that….personal. You net worth and financial position is never going to be the same as anyone else's. Detailing our assets and liabilities in a personal balance sheet, provides a clear picture of our current financial position.
It is important that you don't skip this step. You are likely further ahead than you think. But be mindful that the liabilities are working against us and minimise these where possible.
Cash
Investment accounts
Jewellery
Collectables
Bank Balances
Pensions
Vehicles
Properties
Mortgages
Car loans
Student loans
Credit card balances, if not paid in full each month
Secured personal loans
Unsecured personal loans
Payday loans
Point of sale loans (Klarna, Clearpay)
2. Setting and prioritising goals
Knowing "where we are" with our finances, we have a starting point to map our financial journey through to its ultimate destination. For many reading this site, that is financial independence, for you it may be early retirement or having the ability to retire.  
Make you financial goals inspirational, but also make them S.M.A.R.T
Specific
Measurable
Attainable
Relevant
Time-bound
Instead of saying you want to be financially independent, a S.M.A.R.T long term goal might rephrase this as "I want to have a passive income of £40,000 in 13 years".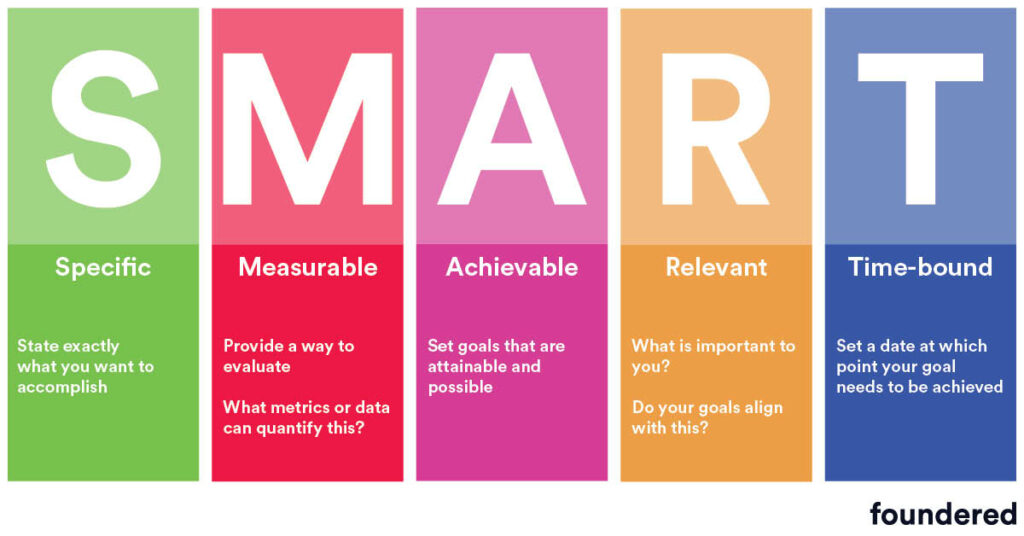 Short and long term goals
Typically, short-term goals are defined as accomplishments that could be achieved today, but could take up to a couple of years to complete. Long-term goals are usually completed in 3 to 5 years, or longer. You short term goals can be independent of your long-term goals or they could be the stepping stones to reaching your long term goals.
Using the example above, a S.M.A.R.T short term goal could be to invest £300 each month into your Self Invested Personal Pension (SIPP).
Using both short and long term goals, we create a financial roadmap. We plan for the long term and break this down into attainable steps, allowing us to celebrate the wins along the way.
Examples of short term financial goals
Starting an emergency fund
Investing regularly into your investment accounts
Examples of long term financial goals
Maximise your earning potential
Eliminate all household debt
Save for your children's future
Become financially independent
Make sure you set your short term financial goals appropriately to guarantee your long term financial goal success. How will you measure them?
The foundation of personal finance planning is your budget. Once we have a firm understanding of our income and expenditure, we can look at optimising this to achieve our short and long term goals. It will also help us to plan in advance for any possible overspends and ensure you don't need to get into debt.
To calculate you current monthly budget, subtract expenses from income. Hopefully you are living within your means and the above figure is a positive sum. If not, you need to address this immediately. We tackle this in depth in our how to budget money post.
Once we have a positive balance each month, the goal is to create an increasing gap between income and expenditure. Look at each line and assess how you can cut costs or increase your income. Building headroom in your budget, we can start to use any of the unused income to progress our goals.
4. Saving and investing for retirement
While your retirement may feel like a long way off, I can assure you that you will wish you started sooner or saved more earlier in life. Imagine working til you're 65 and then realising you've not saved enough for retirement. Thats not a nightmare, but a reality for many.
Once you are in a position to save and invest, start doing so. Start with your workplace pension, get your employer match. Top it up if you can. Consider a stocks and shares ISA and contribute all you can to that. If you're fortunate enough to max out your pension and ISA in any given year, then a open a general investment account and contribute to that.
Every type of investment has its own risk profile. There are no guarantees of future returns, but investing is one of the best ways to achieve your personal finance goals.
If you are new to investing, seek professional advice. Don't go it alone.
5. Review your plan regularly
You should review your personal finance plan in line with you goals, but at least once a year. Personally I have my short term goals in the reminders app on my phone. I tick these off as I complete them. They prove to be a constant prompt and provide encouragement to stay on track.
Personal finance planning isn't static and it will change with your personal life events. Getting married, having children? These major life events are great times to review your goals and update your personal finance plan.
Want to achieve financial independence?
You could spend the next 13 years learning about personal finance and putting your knowledge into action. Or you could take my FREE 10 day mini course and weekly emails. I'll show you exactly how to become financially independent. My only question is, whats stopping you?
5 personal finance planning strategies
As we've outlined above there are 5 very clear strategies in the personal finance planning matrix.
Knowing your current position
Setting and prioritising goals
Creating a budget
Saving and investing
Reviewing regularly
Understanding each of these strategies and implementing them will put you in a better position that most. Life will certainly throw you challenges and will try to steer you off course. By creating and monitoring your plan, you are in the best position to tackle these challenges and get back on track.
Frequently asked questions
You can create a personal finance plan without professional advice. However if you are new to investing, you may wish to get advice on potential investment opportunities. Please do not invest without speaking to a professional.
Most of us have have times when we worry about our financial security. As we get older this does seem to be a more common occurrence. The good news is you are never too old to start personal finance planning. 
We are of course biased, but our videos on the Foundered Money Youtube channel cover each of our blog posts in great depth.
Financial plans shouldn't be complicated and they shouldn't remain locked in a drawer. They are living documents that change as your circumstances change. Having a personal finance plan to reference and gravitate back to is imperative in the success of your financial well-being.
If you haven't written a personal finance plan, then the most important thing you can do this year is create one.