Heinz and Morrisons have teamed up this half-term break to give a helping hand and a warm meal to those in need. Simply 'Ask for Henry' at any Morrison's cafe you'll get a jacket potato with Heinz beanz, free of charge.
Please note this offer concluded on the 6th November 2022. We will update the post if this becomes available in the future.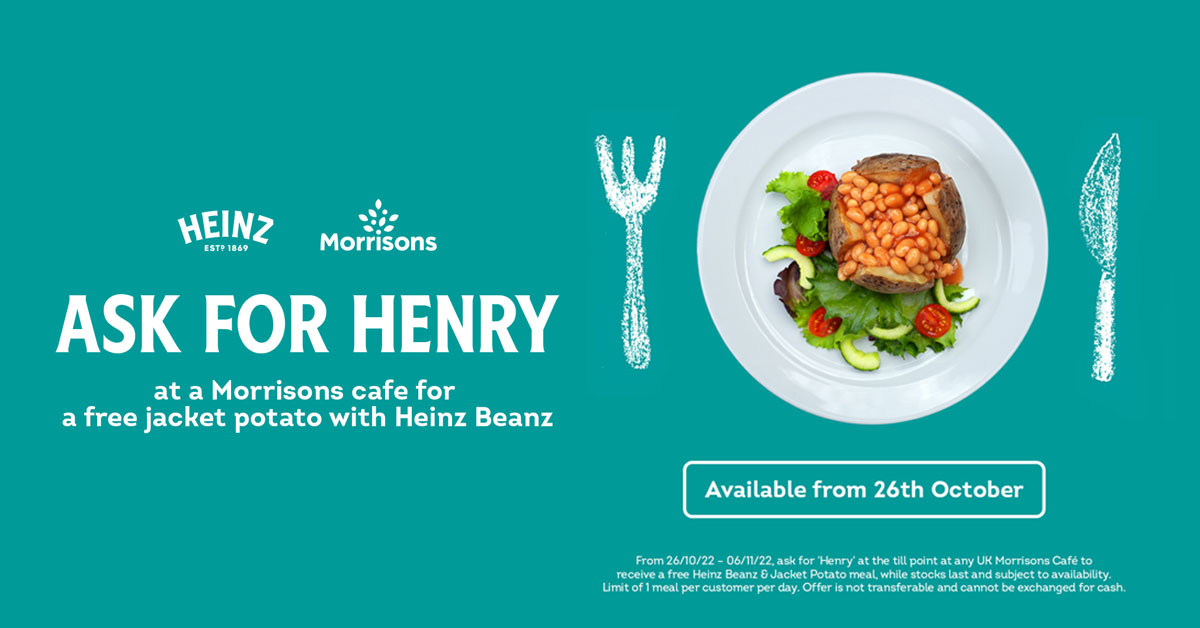 The cost of living crisis across the UK is having a serious toll on a large number of the UK public. Many are choosing whether to heat or eat on a daily basis and this isn't only adults but their children also. Heinz and Morrisons have been praised for giving away up to 160,000 free meals this half-term to anyone in need, no questions asked.
This initiative has been welcomed by consumer groups and the public across the UK,
It's unlikely that any reader here is unaffected by the cost of living crisis. Every person I've spoken to has apprehensions about the cost of running their home and feeding their family. Normally it's my recommendation to suggest starting a side hustle or ways to earn more money. But those take time and hunger doesn't wait.
Ask for Henry
Jojo De Noronha, President Northern Europe at Heinz said: "October marks the birthday of a very special member of the Heinz family, our founder Henry J. Heinz. Henry brought comfort and goodness to others, not just through his food but his actions.
"We want to honour his good heart and kind spirit by doing what he did best, helping feed people in times of need. That's why we're launching 'ask for Henry' with our partner Morrisons on 26 October.
"We believe everyone deserves the goodness, comfort and warmth a can of Heinz Beanz can bring. Whilst we know it doesn't fix the problem, we hope our 'ask for Henry' initiative can be of some help at this difficult time for many, particularly over half term."
Sian Whittle, Category Director of Morrisons Cafés, said: "We know that our customers are under real financial pressure at the moment and are therefore pleased to be partnering with Heinz on its 'ask for Henry' initiative to offer customers a free jacket potato topped with Beanz."
If you need a warm meal this half term, from 26th October you can simply 'ask for Henry' at your nearest Morrisons store. There are absolutely zero stigmas for asking for help and the staff at the Morrisons cafes will only be too happy to provide your meal without embarrassment.
Who is the offer available for?
The offer is available to anyone, young or old who 'Asks for Henry' at a Morrisons Cafe in the UK.
Do I need to pay anything?
Heinz and Morrisons have teamed up to cover the entire cost of this hot meal. This is completely free of charge.
How often can I ask for Henry?
You can ask for a free meal once per day until stocks last. Heinz and Morrisons are serving up to 160,000 meals from 26th October to 6th November.
Who was Henry Heinz?
Henry J. Heinz was the founder of the Heinz company which launched in 1869 first selling horseradish. He was a huge advocate for food quality, a philanthropist and heavily involved in politics until his death in 1919.
The Heinz company is best known for its condiments and of course its beanz (beans) products. The company manufactures and sells products in over 200 countries worldwide.
Morrisons Cafe Offers
Morrisons Cafés, like many supermarket cafes, has a great food offering and plenty of deals. Kids eat free in Morrisons cafes when an adult meal of cost £4.99 or over is bought at the same time. This can make Morrisons cafes one of the cheapest ways to feed your family when out.
Recap
From 26th October until 6th November 2022, Heinz and Morrisons are teaming up to provide 160,000 free meals to those who 'ask for Henry' in any Morrisons Cafe. No questions ask, young or old. Anyone can avail of a free hot meal.