As part of our Live Well series of posts on the site, we aim to focus on some of the pursuits, sports and destinations we love and hope our readers will find informative. First up we want to introduce our favourite ski resort in Europe, Morzine. A beautiful Alpine ski-town in the Haute-Savoie region.
Introduction to Morzine, France
This Ski Resort Guide Morzine, France is here to assist in your planning, visiting and enjoying all that Morzine has to offer. It has been written with tourists firmly in mind. There have been no incentives or payments for any of the recommendations presented.
Please note that you'll rarely see a negative comment in these guides. We prefer to only promote those businesses and services we've had positive experiences with.
To sum up Morzine in a single word, it would be: Understated. While the village has become a relatively large resort in recent years, Morzine has successfully retained the character of a traditional French ski resort. With that you can be assured of amazing restaurants, great shops and activities. But without the price tag of more recognised "luxurious" resorts. Not to say Morzine doesn't have luxury, but your less likely to see a Sportalm or Moncler store here. That suits us just fine! What Morzine offers, is a laid back village full of charm, great skiing and lots of activities for all the family.
Where is Morzine?
Morzine is situated in the heart of the Portes du Soleil, within the French Alps, close to the Swiss border. Being only 74 km away from Geneva Airport, Morzine has a 1 hour 15 minute transfer time, making it one of the shortest transfer times of any ski resort. For a family ski trip we found this invaluable when taking a child skiing at 6 months or at 18 months age.
Getting to Morzine
Easyjet fly to Geneva from the UK & Aer Lingus also provide regular flights from Dublin, making this a very easy (and cheap) destination airport. If you travel on the earliest outbound flights and have your ski's ready to collect, or with you. Then afternoon skiing on the first day of arrival, is readily achievable.
Private Airport Transfers – Geneva to Morzine
From Geneva Airport there are many ways to travel to your onward destination. Car hire is plentiful as are private airport transfers.
Geneva Airport does not allow booking onsite and so transfers to Morzine are always best booked before you depart for your trip. You can book private transfers, shared transfers in smaller shuttles or shared transfers in larger buses.
There are quite a number of independent transfer companies, however many, work in partnership with the larger firms during busier periods. It wouldn't be unusual to book with one company and another arrive for you. With that said, we've travelled with Skiidy Gonzales a number of times now. They have been consistent with clean vehicles, prompt pick-ups and good communication throughout.
With most private transfers you'll receive an email and text message notification around 24hrs before your journey with details of pick up time and location.
Top Tip: If you ski often and don't want to bring your skis back and forth to the UK, alps2alps.com provide a free ski storage for their clients. This is a new service, so we haven't availed of this so far, but this will provide a huge saving in baggage costs with the airline or hiring your skis in resort.
Shared Airport Transfers – Geneva to Morzine
If you're travelling alone or as part of a small group it can often be more economical to use a shared airport transfer. Like private transfers there are a welcome number of providers who are stationed within Geneva Airport for pick up services (again you must pre-book as it is forbidden for operators to take bookings onsite at the airport).
however there are often long waiting times during peak weeks of the year.
Top Tip: While a more expensive option, the flexibility of a private airport transfer was welcomed when travelling with young children. Not having to wait for your transfer or stopping at multiple locations entroute meant you can keep to your "normal" routine.
Getting the Bus – Geneva to Morzine
The most economical way to travel to Morzine from Geneva is a public bus. This journey must be taken in 2 stages. Firstly you get a bus from Geneva Airport to Thonon-les-Bains (1hr 24mins) and then onwards to Morzine stopping in Saint-Jean-d'Aulps en route (45mins).
The public bus drops you off in the centre of Morzine, and if you get the times just right it isn't much longer a journey than a shared transfer. However you are very much at the mercy of the public bus timetables and this may or may not suit your flight times.
Car Hire at Geneva Airport
Personally, I'm happy to take a bus to the resort in many locations. However as getting to Morzine often includes additional baggage, children and our parents, we opt for the easiest method.
Ski Hire & Snowboard Hire in Morzine
When you arrive in resort, one of your first tasks should be to pick up your skis or board. It is always advisable to pre-book these in advance of arriving. There are often online discounts for pre-booking or booking together as a group, so it is advisable to pick up the phone, sending an email or checking out the suppliers site.
Within Morzine, like any ski resort, there are a number of larger chains such as Intersport or Skiset. However, there are a few "to your door" ski and board rental companies.
Ski Hire Delivery Service Morzine
If you've ever queued for an hour in a warm ski shop with full ski gear on, during a peak week, you'll be forgiven for never wanting to go through that experience again. Maybe not unique to Morzine, but it's the first place I'd seen Door-to-Door delivery service for your skis and snowboard. What an age we live in. The convenience is something else and the pricing/hire equipment comparable with any of the bricks and mortar ski hire/rental stores.
Doorstep Skis, Morzine
We have used Doorstep Skis on numerous occasions now and have found them prompt and comparable in price to any store. Ring them when you're 15 minutes from your accommodation and there's pretty much someone there to greet you with premium quality ski and snowboard equipment.
Ski Rental Shops & Snowboard Rental Shops in Morzine
Like every ski resort around the world, Morzine is awash with ski hire and snowboard rental shops. There are independents and chains such as Intersport dotted across the town. We've used Intersport in a number of resorts and always found their equipment to be great quality and the cost comparable with any of the rental stores in resort. Normally we'd advocate shopping locally and with independents, but choose whoever you feel most comfortable with and those who are within your budget range.
Family Tip: If you are putting a young child through their first ski lessons (age 4-5), definitely check if the ski rental store carries their shoe size. We did find a very limited selection in each store, so best to pre-book well in advance if you are travelling during a busy period.
What is the Portes du Soleil?
Les Portes du Soleil encompasses 13 French Ski Resorts across France and Switzerland. The combined 650 km of marked pistes and approximately 200 lifts ranks this ski area in the top 2 in the world. The following resorts are included within Les Portes du Soleil ski area.
Avoriaz
Morzine
Chatel
Les Gets
Morgins
Les Crosets
Champery
Torgon
La Chappelle d'Abondance
Champoussin
Saint Jean d'Alps
Montriond
Abondance
Val d'Illiez
Where to Stay in Morzine, France
Morzine is home to the catered chalet and you'll find an abundance of high quality chalets right across Morzine, Montriond, Avoriaz and Les Gets. More recently, the rise of self catering apartments has been noted right across the ski resort. Notable mention to More Mountain, who we've stayed with a number of times now. They operate a fantastic business with both Catered Chalets and Self Catered Accommodation in Morzine.
Self Catered Apartments in Morzine
Our go to accommodation in Morzine. The quantity and quality of the self-catered apartments in Morzine is second to none. Having the extra space and kitchen facilities, especially with young children makes the world of difference to your trip.
As we've alluded to above, More Mountain are our go to for self-catered apartments. They offer brilliant locations and incredibly well furnished apartments and chalets. Not only that, but their team in-resort are excellent at ensuring your stay is carefree as possible. We can't recommend them highly enough. One of the benefits of More Mountain is their partnership with so many businesses in Morzine.
Flex-Catering
Want restaurant quality food delivered? No problem, many of the self-catered apartment providers will arrange this for their experienced chefs to prepare delicious home cooked chalet style meals. These dinners are then are delivered to your fridge – so you have dinner ready when you want, just heat up, serve & enjoy.
Skis Delivered to Your Door
Want Skis delivered to your apartment in Morzine? Of course, this is no problem also. Just ring Doorstep Skis and they'll bring hired skis, boards, helmets and boots to your apartment. I must confess I ring them about 20 mins out from arriving in Morzine so that we arrive at the accommodation together. I get my skis fitted, drop off our suitcases and hit the slopes. Perfect to ensure maximum time on the slopes.
Grocery Shopping
This season More Mountain have also started a grocery shopping service. They'll have your fridge stocked with all the staples, bread, milk and 30 bottles of wine…..
Catered Chalets in Morzine
Traditionally catered chalets were the most common form of accommodation right across the Alps, not just in Morzine. The rise in self-catered apartments and AirBnBs does seem to have greatly reduced the number of Catered Chalets across Europe in recent years. However those that remain continue to provide incredible service, super accommodation, restaurant quality food and a unique experience you'll not find in any hotel or apartment.
During our travel to Morzine we have seen many catered chalets. Some that have stood out to us are listed below.
Each season the choice of catered chalets in Morzine changes. The seasoned veterans maintain a great reputation for quality and service and the newcomers often bring a new slant to chalet accommodation.
Hotels in Morzine
While there are a number of hotels in the Morzine area, none of them have ever enticed us to stay. Thats not to say they aren't great hotels, but we've always found Morzine to be lacking against the other resorts in this area.
AirBnB's in Morzine
Eating out in Morzine
Eating out in Morzine is a delight. There are options for quick and easy bites or more formal meals and a heap in between. Below we've outlined some of our favourite restaurants with a little narrative on why you should try the
Le Grange – 60 Chemin de la Coutettaz, 74110, Morzine
Le Grange is a huge favourite of ours. Eating within the restaurant is a delight. Traditional decor, great service and a brilliant wine list topped off with some of the most sumptuous food we've eaten in Morzine. What's not to like! If Wild Boar Stew (my favourite) or Duck Shepherds Pie sound like your type of meal, then you should definitely check out this restaurant.
While Le Grange is very much family friendly, sometimes when travelling with young children the timing just doesn't suit to eat out after 6. Le Grange have a wonderful takeaway option where they provide a selection from their menu for you to cook in your own chalet. It's incredibly affordable and just as delicious as the restaurant menu.
Skiing in Morzine, France
Any Ski Resort Guide worth its salt would have a section dedicated to snowsports and by heck this is no different. Why is it that Morzine is such a popular destination for beginers and veteran skiers alike?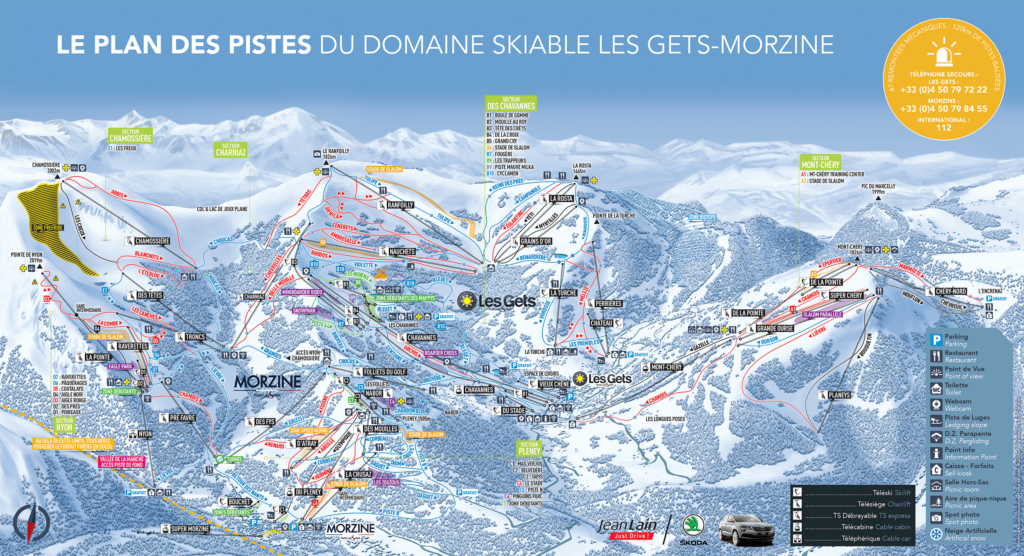 Resort altitude : 1000m
Highest ski lift: Chamossiere at 2002 m
Number of Lifts & Pistes: 48 lifts & 69 pistes in Morzine & Les Gets Green runs: 5 in Morzine & Les Gets // 33 in Portes du Soleil
Blue runs: 29 in Morzine & Les Gets // 122 in Portes du Soleil
Red runs: 28 in Morzine & Les Gets // 104 in Portes du Soleil
Black runs: 9 in Morzine & Les Gets // 27 in Portes du Soleil Snowparks: 3 in Morzine & Les Gets // 11 in Portes du Soleil
Total KM of slopes: 107km in Morzine – Les Gets // 650 in Portes du Soleil
Ski Lessons and Snowboard Lessons in Morzine
Ski Lessons Children Aged 3+
ECOLE DU SKI FRANÇAIS
esf (Ecole du Ski Français) ski school is the largest ski school in the world, not just France. With over 17,000 instructors across the country and over 2 million students each year they have a huge infrastructure unmatched by other ski schools. This is noticed mostly when you see the dedicated properties they own for their youngest students. In Morzine, the purpose built ski school for children 3+, ensures that your child not only gets the best ski experience possible, but they also have the facilities needed to keep them safe and well at this early age.
It can be daunting leaving your child with strangers at home, never mind in a foreign country. You was security, reliability and caring attitude towards your children. We found the esf Morzine team brilliant with our daughter from a very early age. Not only were they conscientious and attentive to her, but also to the adults as well.
Club Piou Piou – Ski Lessons Children Aged 3+
Morzine Ski Lift Opening and Closing Dates
Each season is completely different and of course weather dependent. Usually Morzine lifts open Mid-December and close just before Mid-April.
Family Skiing in morzine
To say that Morzine as a ski resort has a lot to offer for families and couples alike is an understatement. The huge number of slopes and interconnected resorts makes this a wonderful destination. We've based ourselves in Morzine Ski Resort over a dozen times now and will happily enjoy more time there in the future. We have found the Morzine ESF Ski School premises as one of the most well equipped and modern in Europe. The staff couldn't have been faulted in our multiple times using their service.
WHERE TO BUY LIFT PASS IN MORZINE?
Buying a lift pass in Morzine is incredibly easy. There is a lift pass office at both the Pleney and Super Morzine Gondolas. As well as this, the Tourist Information Office in the centre of Morzine can also assist you with your purchase.
Depending on accommodation provider, they may be able to arrange your lift passes on your behalf. This is very common with hotels, catered chalets and some higher end self-catered apartments. It is unlikely that your AirBnB host will do this for you, but if in doubt, it's always good to check.
For those staying outside of Morzine itself, lift passes are available to purchase at every base gondola station.
WHAT LIFT PASS TO BUY IN MORZINE?
The "full" Portes Du Soleil lift pass
A Portes Du Soleil lift pass give you access to all 12 resorts within the Portes Du Soleil ski range noted above. This is perfect for skiers/borders who want to explore the mountains and not be limited to the Morzine-Les Gets areas.
The Morzine-Les Gets lift pass
A Morzine-Les Gets lift pass give you access the ski areas of Morzine and Les Gets. This is a great area serviced by the Pleney Gondola. The slopes range from beautifully wide blues to steep mogul laden slopes. An intermediate could ski this area confidently in a day. If you don't mind going over the same slopes daily, then this a decent pass. Or if you're budget conscious, this could be a good way to save money.
Important to note: If you initially decide to buy a Morzine-Les Gets ski pass but then want to ski in the rest of the Portes Du Soleil area, it is not possible to upgrade your pass. You will have to buy a PDS pass for the days you want to ski in the rest of the area.
CAN I GET THE BUS TO MORZINE FROM GENEVA?
There is no direct bus to Morzine from Geneva Airport. However you can travel to either Cluses or Thonon-les-Bains and then get a bus from there to Morzine, St Jean Du Alps, Avoriaz and Les Gets.
IS MORZINE SKI RESORT GOOD FOR BEGINNERS?
Morzine is perfect for beginners. With a large number of beginner slopes and fantastic facilities for learning, it is a great resort to learn how to ski.
WHAT'S IN THIS SKI RESORT GUIDE MORZINE?
This guide covers every you need to consider when planning a ski trip to Morzine, France. From accommodation to eating out, ski lessons and family tips, this ski resort guide morzine, gives you the information needed to make the right choice on where to ski this winter.
——
Other Ski Resort Guides
While this Ski Resort Guide Morzine, should be enough to tempt you to visit this wonderful ski resort, we understand it. won't be for everyone. Check out our other ski resort guides here.